Explore Your Creative Spirit In Japan
">A photographic experience with Richard Martin and Japan specialist, Rika Nishimura from Kuroko Boutique Tours
Thursday, May 18th – Sunday, May 28, 2023
"Richard Martin's intelligent and caring workshop philosophy is based on a great deal of experience, both as participant and instructor. The creativity of his vision, images, and teaching is inspiring."
Freeman Patterson
Photographer
Experience Kyoto
We start in the ancient capital of Kyoto, known as the cultural center of Japan with a vast offering of heritage buildings and more than 2000 temples and shrines including 17 UNESCO World Heritage-listed sites. Here we will start our days early to capture the calmness and serenity.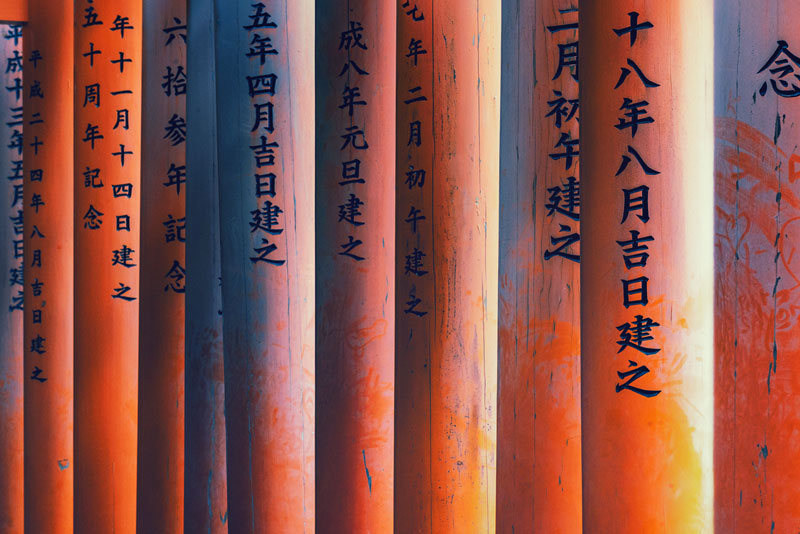 Behold Scenic Omihachiman
Then have a two-night stop at a scenic canal town, Omihachiman. This small castle town next to Japan's biggest lake, Biwako, is located on the ancient Nakasendo highway that ran from Tokyo to Kyoto and was built in 1585. Photographic opportunities of water town and historical merchant township would add an extra layer to your Japan photo portfolio. During our stay in Omihachiman, Richard will host a 2-hour workshop.
Witness Toyko
Then the final destination, Tokyo. The World's most futuristic and Avant-garde metropolis with surprising contrasts as we scratch the surface and learn about the lifestyles of the modern Japanese.
Find Calmness and Serenity
We will start our days early to capture the calmness and serenity. This itinerary is tailored to visit not only photogenic locations but also provide culturally meaningful experiences that may bring further depth to your photography. November is a photogenic and colourful time in Japan. Autumn in Japan is known for fine weather all around with the average temperature of 15°C to 18°C in the daytime, 7°C to 12°C at night.
What Our Participants Say
"My photography journey has benefitted tremendously from Richard's generosity in sharing his creative vision and skill, which combined with his love of humour and fun makes learning a cinch."
– Alice Yen Yong
"Richard Martin, along with Freeman Patterson liberated my generation of Canadian photographers from the rule-bound shackles of camera club tradition."
– Larry Monczka
"The reason I travel with Richard as often as possible is because I know I will be inspired, I know I will be pushed to see differently, I know I will be challenged creatively and I know I will laugh… a lot."
– Sally Harris
"It was great to have the opportunity to travel with Richard and see his exceptional eye for color, shape and texture in action. He has a wonderful gift."
– Jim Graham
"[Richard] is truly a born teacher, always available to participants, and I always go home not only having had a good time but feeling that I have grown creatively."
– Mary Macey Butler
"What impresses me is that how [Richard] "sees." There were times on the trips that he saw pictures in the midst of chaos. He is very approachable, has a great sense of humour and just plain good company both while photographing or socializing. He takes photography and teaching to another level that I have not seen from other professionals."
– Gene Morita
Richard Martin
A long-time contributor to Photo Life magazine, Richard pursues photography as a medium of visual expression. He is a deeply committed instructor who guides participants on a voyage of personal rediscovery on his photography tours around the world. His passion and insight help the student in opening up the creative doors and to reflect on the special qualities that dwell within them.
Rika Nishimura
Rika was born and raised in Japan. She spent her 20's in Kyoto before moving to Australia where she started Kuroko Boutique Tours. She designs and leads bespoke 'one of a kind' tours. Her dedication to authenticity transforms each tour into an incredibly deep exploration of the Japanese culture, tradition, landscape, and people. Rika's passion for sharing her beloved home country shines through in every step she takes. Rika, a former professional interpreter, also holds a bachelor's degree in International Law from Ritsumeikan University.
A good instructor should have the ability to move people – connecting them with their emotions. Reinforcing to participants the fact that fine images are made with their hearts and souls not their thousand-dollar lens.
Qualities That Make A Good Instructor
Some of the qualities which contribute to a good instructor include:


Instructors should be deeply committed to the process of making images, while possessing honesty and integrity in their own work.


They should encourage individual ways of seeing and expressing, and should NEVER impose their own views on students.


One who enjoys sharing their knowledge, without ego! – this aspect is very important.

One who is always accessible to participants, being available for assistance, and dividing time fairly between students.


One who can guide participants on a voyage of personal rediscovery, opening up doors and helping students reflect on the special qualities that dwell within them.
Thursday, May 18th – Sunday, May 28, 2023
Day 1: D, Kyoto
Welcome to Japan! Make your way to the hotel from Kansai International Airport, Osaka by airport limousine bus. *Instruction provided.

Welcome dinner.

Night photography of the backstreets of Shirakawa-Dori and Ponto-Cho to capture Kyoto's nightlife.

At Hotel Vista Premio Kyoto Nagomitei or similar.
Format: Day#: Date, Included meals (B=Breakfast, D=Dinner), Overnight City
Our tour itinerary has been designed specifically for serious photographers, to ensure that more concentrated time is spent in the most photogenic areas. In addition to individual attention in the field, time will be spent reviewing participants work while learning digital workflow and visual design. Instruction is kept flexible to accommodate a changing itinerary and varying skill levels of the participants, and to allow for spontaneous photographic opportunities.
Double Occupancy
JPY 610,000*
All public and private transportation from the accommodation in Kyoto to the accommodation in Tokyo.

10 nights quality accommodation with Western bedding.

Daily breakfast and six dinners.

All the entrance fees, activity/shooting arrangements in the itinerary.

Photographic Instruction and feedback.

Interpreting, guiding and tour conducting service by Kuroko boutique Tours for the entire tour.

2-hour workshop in Omihachiman by Richard Martin.

One-time luggage forwarding (Kyoto to Tokyo).

Any airfare, departure & airport taxes and fees, passport and visa services & fees.

Baggage, equipment, medical and cancellation insurance.

Beverages with meals, meals other than mentioned above, tips and gratuities.

Tips to drivers, guides and escorts, any tour or transportation services on days stated as free days.

Tips to porterage and maid service.

Personal expenses such as laundry, telephone, taxi, excess baggage etc.

Travel insurance and optional tours, etc.
* For single occupancy there will be a surcharge of 80,000 JPY
Booking
For a booking form and Terms and Conditions please contact rika@kurokoboutiquetours.com.
Payment Method
We accept EFT (Electronic Fund Transfer) in JPY, USD, CAD, EURO, AUD. Please nominate your preferred currency. We will send you an invoice with the banking details and instructions.
International Flights
Outbound: Osaka, Kansai International Airport.
Inbound: Tokyo, either Haneda Airport or Narita Airport. Haneda Airport will be closer to hotel.
Inquiries
For any photography-related inquiries please contact Richard Martin info@richardmartinphoto.com.
For any inquiries about travel arrangements please contact Rika Nishimura rika@kurokoboutiquetours.com.
Ready To Enrich Your Visual Life?
Whether you're interested in developing your own visual style or expanding your knowledge or craft, attending a workshop or tour may turn out to be one of the best investments you make towards enriching your visual life.
Not Quite Sure Yet?
Why not visit our contact page, we would love to answer any questions you may have!
Contact
Rika Nishimura
Japan specialist
Kuroko Boutique Tours
info@kurokoboutiquetours.com

Kuroko Boutique Tours
West Perth, Western Australia
+61 410-203-956
kurokoboutiquetours.com
facebook.com/kurokoboutiquetours